This year, The Photography Show presented by AIPAD will take place from April 5th to 8th at Pier 94 in New York. It is one the oldest photographic fair with lots of special moments. Until the opening, The Eye of Photography will publish a selection of memories of the fair collected from gallery owners, mostly related to photographs.
– Richard Moore, Richard Moore Gallery, Oakland: A memorable moment was presenting the 2017 AIPAD Award to Sandra Phillips, curator emerita at SF MoMA. It was a privilege to honor a curator who made such a big contribution to photography and had personally encouraged and helped me when I was new to the field. I still think about this beautiful vintage exhibition print of a haunting Dorothea Lange image from 1936. It was sold to an American museum during the 2008 Photography Show. I wish I could find another one.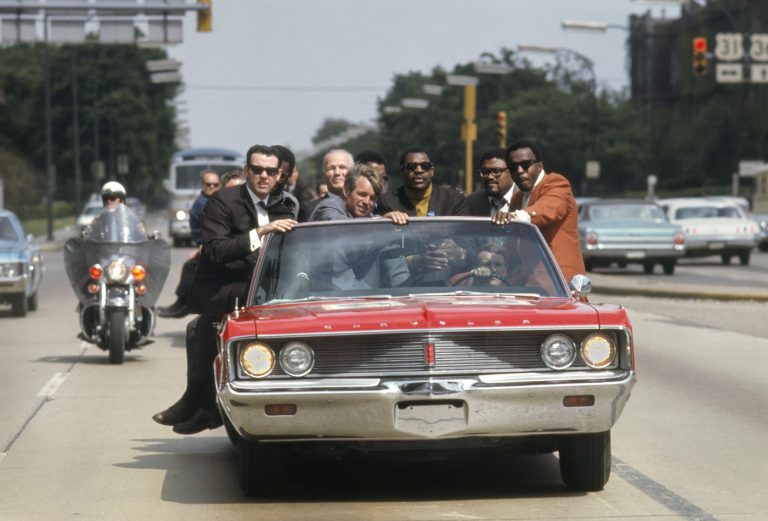 – Sid and Michelle Monroe, Monroe Gallery, Santa Fe: Monroe Gallery of Photography exhibited this image at the 2008 AIPAD Photography Show, on the occasion of the impending 40th anniversary of Robert F. Kennedy's assassination. Over a career that spanned more than 4 decades, Bill Eppridges's assignments were as varied, exhilarating, and tumultuous as the times. His coverage of Robert Kennedy's 1968 presidential campaign informed millions of Americans whose only connection to Kennedy was that they saw in him hope for the future. Although many of Eppridge's photographs of the campaign were published in LIFE magazine, including his historic image of a lone busboy trying to comfort Kennedy as he lays sprawled on the kitchen floor of the Ambassador Hotel after being shot, this image was never published and was seen for the first time at the 2008 AIPAD Show. This photographs embodies hope to this day. Bobby Kennedy is poised in unity with black leaders in an overloaded convertible. They appear as if they are on a Roman chariot charging to battle. There is confidence in the mission and determination in their faces, and in this moment anything seems possible. Now, in 2018, as we mark the 50th anniversary of Kennedy's assassination and the tumult of America in 1968, this image again reminds us of hope for the future.
– Lisa Sette, Lisa Sette Gallery, Phoenix: In Cameographic, Charlotte Potter makes explicit the inextricable connections between glass and photography, as well as the applications of these media toward an essential form of memory: the portrait. The cameos in Cameographic are engaging, paradoxical objects whose existence owes to both ancient and contemporary technologies and desires. Potter's works put human faces to the iconic moments of photography's history—the historical camera is reversed.
– Ada Takahashi, Koch Gallery, San Francisco: For this project, we wanted to submit this photograph by Moholy-Nagy which we exhibited and sold at last year's AIPAD fair. The photograph is pertinent for us because it is a photogram, vintage gelatin silver print, signed L. Moholy-Nagy, dated 1943 in pencil verso and inscribed in ink verso.